Program

Lineup of the activities


Permanent Culture

(4.30pm) Cigarra Bizarra
(6.30pm) Díada
(8pm) Sam Garrett
(9.30pm) Woven Kin
(11.15pm) Alex Moon


Fukuoka Heirloom

(9am-11am) Vale da Cuba – Recognition, Collection and use of indigenous fungi
(2pm-3.30pm) New school permaculture – Social Permaculture


Synergia

(9am-10.30am) INNA Dance – Inner Nature Awakening Method Dance
(11am-12.30pm) Sound healing
(2pm-3.30pm) Chakra Alignment, with Samina Bukhari
(4pm-5pm) Illumin8te – Dynamic Vinyasa yoga, with Megan Riedel
(6pm-7.15pm) JASHO – Soul in Motion


Longo Mai

(11am-12.30pm) Yuramin – Guardians of the Land


Navajo wisdom

(9am-1pm) Washable menstrual pads
(6pm-7.30pm) Adão Borges – Presentation of the book " O Padre ZÉ e VIARIZ"
(4pm-5.30pm) Illumin8te – The real history of humanity

Food Forest

(11.30am-12.45pm) Ruben Arahanta Sutta Martins, and Fruits and Agroforests
(14pm-15.30pm) Kombucha workshop: what is, benefits and how to make!
(11pm) Illumin8te – Cacao Ceremony


Chaouen

(All day) PS: Aldeia – Casa d'Abóbora Community Project


Chillin

(9am-10.15am) Illumin8te – Sound healing
(3pm) Bass drums going around
(11.30pm) Aurora's fire dance
Permanent Culture

(3pm) Barro Negro
(5.15pm) Meru Experience
(7.30pm) Kabeção
(9.30pm) Till Sunday Pirate
(11.30pm) Baile dos Loucos


Fukuoka Heirloom

(9am-10.30am) Zee Barn – Peppi Gauci – Water in the landscapes


Nomadera

(11am-12.30pm) Nuno Cruz – Regenerative turism
(2pm-3.30pm) Adão Borges – Trans-siberian Moscow-Beijing



Synergia

(8am-9am) Satcris Yoga
(9am-10.15am and 2pm-15.15pm) Emphatic communication
(11am-12am) Illumin8te – Connections workshop
(3.30pm-4.45pm) JASHO – Soul in motion


Navajo wisdom

(9am-10.30am) Mãe Cabra – Soapmaking workshop
(11am-12.15pm) Effective communication

Food Forest

(2pm-3pm) Illumin8te – Alkaline Plant Nutrition and Health with Megan Riedel


Chillin

(8am-9am) Illumin8te – Reiki Healing with Megan Riedel
(12pm-14pm) DJ set Caribeirô

Permanent Culture

(6pm) Tresmoças
(8.15pm) Balklavalhau
(10pm-10.30pm) Joshua Grindon Ford – Comic Magic
(11pm) Balskandal


Fukuoka Heirloom

(2pm-4pm) Vermicomposting workshop


Nomadera

(11am-12.30pm) New School Permaculture – Journey through the Amazon
(5pm-6.30pm) Adão Borges – Book presentation " O Padre ZÉ e VIARIZ"


Synergia

(8am-9am) Zee Barn yoga – with Melania
(9.30am-10.30am) I have not died – yoga
(11am-1pm and 4.30pm-6.30pm) A dot , a line, a seed, a plant…
(3pm-4pm) Intuitive chant – with LuizGa



Longo Mai

(9.15am-10.30am) Zee Barn



Chillin

(11am) Heart-opening kirtan (mantra singing circle)
(1pm-2pm) Leo Mullane
(2.30pm) Libertad



Food Forest

(9am-10.30am) Fermentation: Sourdough bread, Vinegar, Kombucha & Pickles
Permanent Culture

(6.30pm) LuizGa
(9pm) Mova Dreva
(11pm) Munay


Fukuoka Heirloom

(3pm-4.30pm) New school permaculture – Reading Nature
(5pm-6.30pm) Bem da Terra – How to make a pond (theoretical)
(8am-10am) Bem da Terra – Sensory walk
Nomadera

(11am-12.30am) Ana Ferreira – Around India, the transformation of oneself
Synergia

(8.30am-9.30am) I have not died – yoga
(11am-1pm e 5pm-7pm) A dot , a line, a seed, a plant…
(2.30pm-4pm) Unleash your dance



Navajo wisdom

(9am-10.30am) Ceramic and modulation workshop


Longo Mai

(9am-10.30am) Vale da Cuba



Chillin

(11am-12.30pm) Eye color dreams
(1pm-5.30pm) Neon logic

Permanent Culture

(2pm) Mica Sinclair
(6pm) Giovanni Trecco
(9pm) Terra Livre


Nomadera

(11am-12.30pm) Terra Batida – Discovering trips
(2.30pm-3.30pm) Adão Borges – Transiberian Moscow-Beijing



Synergia

(8am-9am) Satcris yoga
(9am-10am) I have not died – yoga
(11am-12pm) The dark night of the soul into self-love
(4pm-5.30pm) Liberta a tua dança – pairs improvisation dance
(6pm-7.30pm) Conectarte – Moving, touching with ink



Navajo wisdom

(10.30am-12.30pm) Canela Cheia – Learning to make a doormat
(2pm-3.30pm) Astrology of the soul
(4pm-5.30pm) Illuminate – Women wild and free, with Julia Seta-Leyland



Food Forest

(9am-10.30am) Embodiment and Food
(23h) Illumin8te – Cerimónia de cacau


Chillin

(9am-10am) Illumin8te – Reiki, with Anthony Smith
(10.30am-12.30pm) discolagens
(4pm-5.30pm) DJ Mutante
(23h30) Bob Figurante


Chaouen

(12pm-12.30pm) A dot , a line, a seed, a plant… (performance).

Areas of activities – explanation


There are 9 main activity areas in Festança, each represented by a different color.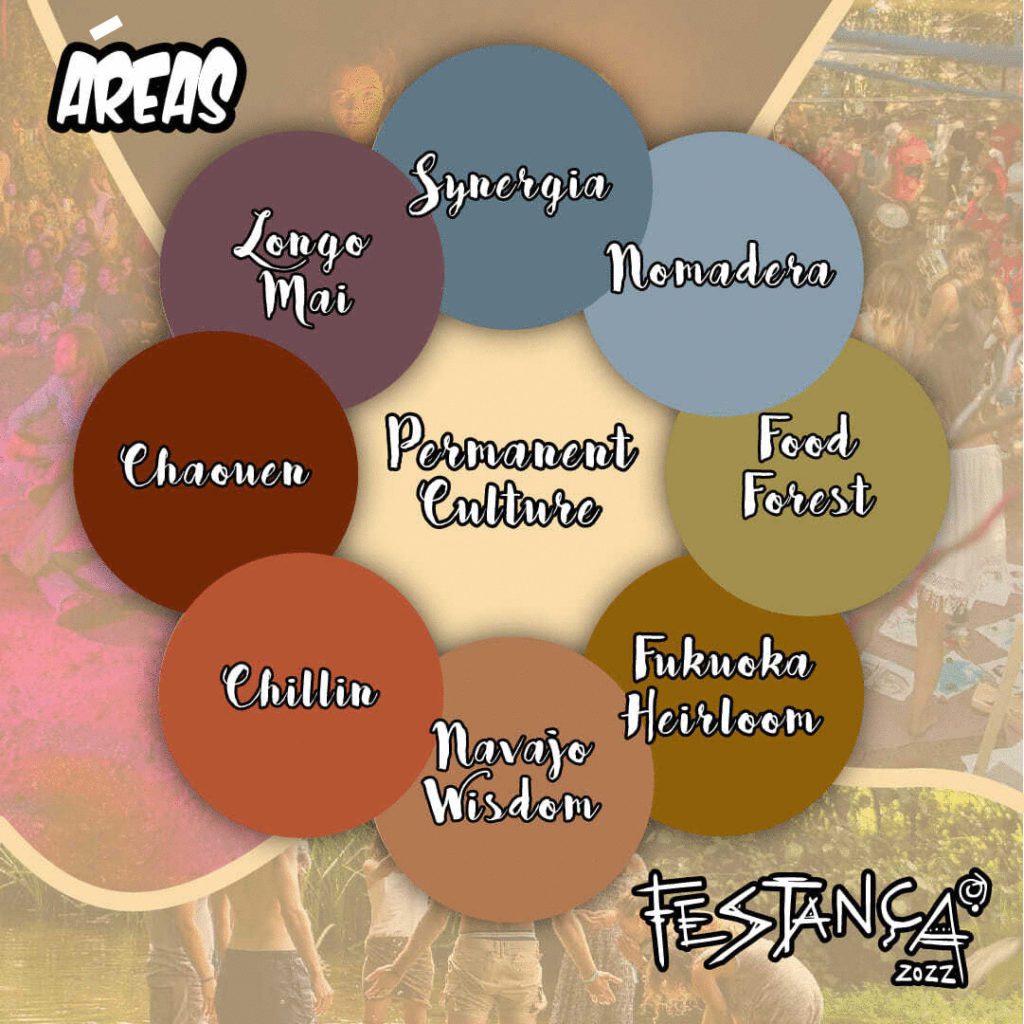 There are 9 main activity areas in Festança, each represented by a different color.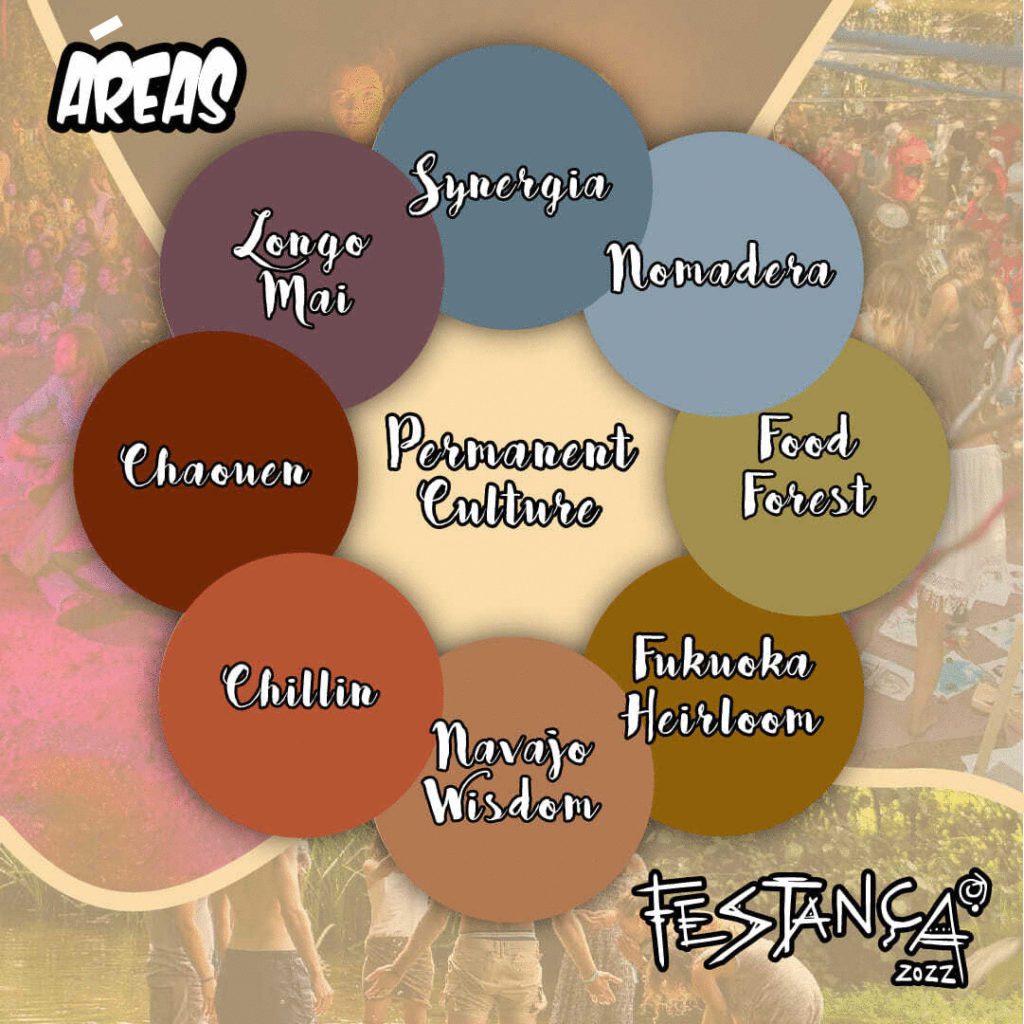 On the next tabs you have the areas of the festival described. Their names are abbreviated.
This is the Festança's area with the largest number of activities, where you have World Music concerts and also other performances between concerts!

As the term "Permanent Culture" reflects (Permaculture descends from the junction of these two words), it is the space where there is a permanent interaction of all of us within Festança!
Travelling

is a pillar of Festança's origins. HitchFest focused this aspect on hitchhiking, a more nomadic aspect, and at Festança we will not stop doing it, but we will explore other types of alternative travelling linked to the concepts of Festança. You will be able to attend presentations and conversations.

The journey is not only made on the road, but also in the process of

putting down roots!

!
Two of the true essences of Festança are

permaculture

and

self-sufficiency

combined with natural construction! You will be able to attend
presentations

and

workshops

.

You probably already know about the impressive knowledge that Masanobu Fukuoka left us, and you will understand why we were inspired by him to name this space.
Ancestral wisdom

is (and was) very important, and we want to share with you a lot of that self-knowledge that contributes to your personal development!!

As a way to combine this wisdom with what the various generations have developed over the years, and to enable different perspectives and visions on the course of our present and future at a local level and then on a larger scale to be presented, in this space you can learn and also share with others, in the form of
workshops

,

presentations

and

conversations

.
The community kitchen is an important part of Festança, because in addition to promoting group spirit and mutual help, it develops awareness for

natural and healthy food

, and for the

natural cures

associated with it. You will have access to
conversations

,

workshops

and

presentations

.

It is knowledge that will be shared in this "forest"!
With its name inspired by the network of co-operatives Longo Mai and its functionality, this space shows examples of self-sufficiency projects related to the thematics of Festança, from
permaculture

to

natural construction

, among others. You will have access to

presentations

and

workshops

.

The domino effect that is intended for more people to feel inspired to create their projects cooperating or even individually, can be inspiring!
Art

challenges the mind! It has a purpose of clarifying and challenging the sometimes not evident, and so it often makes each of us feel our own way.
Permaculture

and

travelling

, especially these two, are closely linked to the artistic process, which is a reflection of their beauty and connection with our mind!

Although you can find

art exhibitions

throughout Festança's site, in Chaouen area it has its own place to be analysed, where it will be expressed through

presentations

.
Chillin, breathe, and get into the

chillout

! At Chillin you are still in the world music scene, but with a smoother and more relaxed journey, at your own pace, where we will emphasize the
ambience

, the

calmness

, the

harmony

, sometimes with a touch of other rhythms.

Under the stars, with your feet on the ground, free yourself and stay here, sometimes to the sound of the night or sometimes to the sound of the day, where you will find World music, Ambient music and Chillout music.
Group dynamics and therapies

are essential to help us put down roots! Synergia was created for this purpose, so that this sharing becomes cooperative and conscious.

In this space, where the well-being of the mind is essential, you have access to
workshops

,

presentations

, and

therapeutic music

.